Welcome the day before Lent-often called Fat Tuesday, Mardi Gras, etc. It's usually the last plunge before we go 40 days into repentance; preparing for the great feast of Easter. While many people are indulging. there is a challenge in the blogosphere today. It's called Show Us Your List. It stemmed from other authors who are frustrated by the 50 Shades craze.
Since this blog is about Random Thoughts About God, I'm curious to know what would God say about this recent craze. Is 50 Shades the gift He gave us so long ago? Aside from demeaning what that gift is supposed to be, there' s a scarier theme about violence against women. Don't believe me? Check out this list from The Rambling Curl.
However, back to the purpose of today's post: to offer books to read instead of "those books." That's today's challenge of #showusyourlist, and I've accepted.
1. The Mind Speak Series by Heather Sunseri.
Why I chose Them: While some characters have morally questionable characteristics, they are portrayed as the antagonist. The protagonist works hard in all three books of the series to fight the evil she discovers. I'm pretty sure the next series by this author will have a similar theme, as I've previewed two chapters.
Summary: Lexi Matthews, daughter to a controversial geneticist, has the ability to influence people's thoughts. When she meets Jack, who mysteriously heals her broken arm, strange things begin happening. Her father goes missing and she begins receiving threats. Soon, Lexi and Jack both struggle to learn about their abilities and what it means to have them. The series explores these abilities, the consequences of using them, and how the craving for power can become evil despite the intent to do good.
Where to Get Them: MindSpeak is free right now at Amazon.
2. Neb The Great by A.K. Frailey
Why I Chose It: Good fiction doesn't have to be boring. This book has all the elements a good book has: adventure, finding oneself, relationships, good vs evil, and (yes) war. The difference is, again, good is not confused with evil.
Summary: From the blurb:

"

Neb the Great was raised to conquer and conquer he did until he met a woman who challenged his heart and enslaved him in a way he never thought possible. From their union is born two sons, one who would change the course of history by becoming the father of a new generation which would lead to the birth of Aram, while the other would descend into further corruption by embracing his grandfather's name and his gods."
Where to Get It: Neb the Great on Amazon
3. Don't You Forget About Me by Erin McCole Cupp
Why I Chose It: This is actually on my To Read list. I heard all about it at the author event I went to on Valentine's Day. Read about that visit here. It has old school memories, mystery and suspense. It sounds interesting and I can't wait to read it.
Summary:
From the blurb: "

Mary Catherine Whelihan made it out of Walkerville alive once before. Can she pull it off this time? Bullies, sexual harassment, finding a corpse in the local creek…. Cate's childhood in 1980s Walkerville was murder! So what could possibly tempt her to return? A cryptic email from Eugene Marcasian, MD, her grade school crush, might do the trick. Can Cate and Gene find the cause of the mysterious illness afflicting nearly all of the girls in their graduating class, including Cate herself? Or will corporate bullies continue to take down anyone who gets in their way? More importantly, can Cate stay alive long enough to get one more slice of tomato pie?"
Where to Get It: Amazon or Full Quiver Publishing
*********New Addition to the List********
4. The Faerie Guardian Trilogy by Rachel Morgan
Why I Chose It:
I can't believe I forgot about this one. I just love this
author
! While it is certainly not Catholic fiction, I really enjoyed this. But I chose it because it is still one of my favorite series. I like a little fantasy when I read, so this was perfect. It wasn't too dark so I didn't have to worry about that. I enjoyed the way two main characters' relationship thrived. At first Ryn seems like a pain in the neck - and Vi tells him so too. As the series goes on, their relationship develops more. I chose this because Ryn is everything Grey isn't. He's a gentleman, sweet, sincere, and goes out of his way to the point of danger to right a wrong. He also GROWS. He may start off like that annoying kid in class trying to anger you, but you see him transform and learn from his mistakes. THAT is what makes a good story.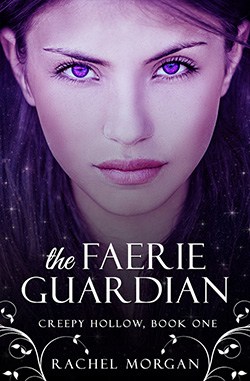 Summary:
The Faerie Guardian Trilogy is about Vi's journey as a Guardian - a protector of humans from the Fae World. She struggles to graduate at the top of her class and lives for her assignments. She meets Nate and they quickly become a couple...until a strange twist occurs. Then Vi is left with feelings of betrayal and confusion. Its up to her and Ryn to get to the bottom of all the strange things happening around Creepy Hollow. That's all I'm saying to avoid spoilers. But if you like adventure, missions, romance (CLEAN romance), then check out this series.
Where to Get It:
The Faerie Guardian at Amazon
. You can get the rest there too.